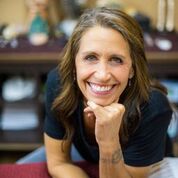 WELCOME!

My name is Dannee and I am a PAIN RELIEF SPECIALIST. I have been practicing massage and bodywork for over 22 years. I have owned and operated my own clinic in Cheney, WA where my clients have ranged from babies to centenarians; professional athletes (remember when the Seahawk training camp was here?!) to EWU and younger athletes; people waiting for surgery and then canceling after working with me; and men and women who've tried all other avenues looking for pain relief and finally finding it here.
Quality care, understanding and attention to your needs are my priority. I want you to have hope and to feel good in your body even though you haven't found a way to do so...yet! It's important that you can live pain-free, doing all of the things that you love--exercising, picking up your babies/grand babies, going to work everyday, and sleeping through the night. Do you dream of the day that you no longer need your pain medication? I have a vast tool bag of techniques and approaches that can address an issue you have and help you get out of pain.
Please, don't hesitate! Schedule online or call me today for your free 10 minute consultation. I'd love to be able to help with your healing journey.
509-235-4864