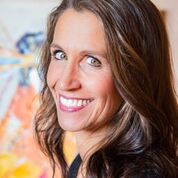 Name and Credentials: Dannee Rodriguez, Licensed Massage Therapist; BA Psychology, Chemical Dependency
Training: Inland Massage Institute (Massage Therapy)
Additional Training/Experience--PRRT (Primal Reflex Release Technique, Level 5/Beyond); Structural Relief Therapy (Teacher's Assistant 5yrs); Yoga Teacher Training; Reiki (Levels 1-2); Craniosacral Therapy; Aromatherapy; Meridian Massage
Newest Trainings 2019: Pain Neutralization Technique and Ash Work Training
Practice Philosophy: Each one of us has unique needs, desires and goals. I approach each session as an opportunity to work together to design a session that is as individual as you are, using the best tools, techniques, education and encouragement that will bring you the most benefit and balance. My mission as a therapist is to provide a safe environment that supports people in their pursuit of wellness by providing skillful, client-centered bodywork that encourages relaxation, increased bodily and self-awareness, and helps them to attain their goals for physical, emotional and spiritual well being.
Why I do what I do: I do what I do because it is my passion and purpose! I LOVE assisting people in the many ways that might be needed. I am in continual AWE of the body~mind~spirit connection!
A little bit about me--hobbies, family, interests: I love and need to move my body--running and yoga provide great balance for me. I adore our 3 daughters, husband, and our extended families--we're so blessed. My other interests are so wide and varied but I will say that travel and adventures make my heart jump up and down with excitement! And if you haven't caught on yet, I use the word LOVE a lot because I'm am very heart-centered and when I say it, I mean it.